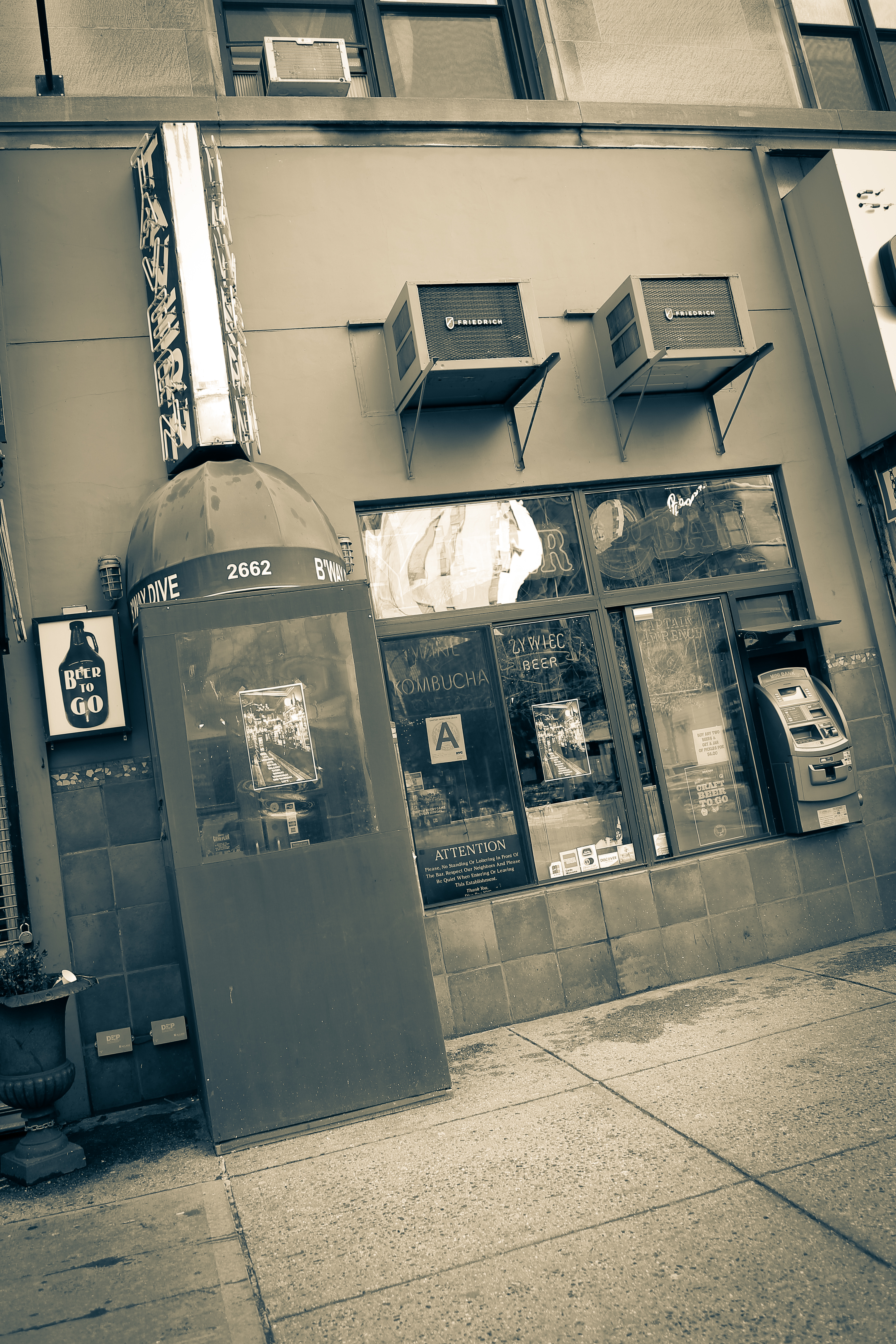 Broadway Dive
"Sure, Broadway Dive has the intimate feel of a neighborhood hole-in-the-wall, but the joint boasts a Scotch and craft-beer list that could rival the finest pubs." ~ Village Voice
"One of our favorite neighborhood bars. It's always a really mellow crowd in a warm and inviting atmosphere." ~ On The Grid
I've worked at Broadway Dive for over 32 years. When you think of that span of time, it seems almost endless. But when you've lived it, it seems like the blink of an eye.
When I first moved to NYC, the Broadway Dive was a place called Mortie's. It was a real rough-and-tumble dive bar named for its owner, a retired Jewish prizefighter. It then became Brats – one of the UWS's first gentrified bars – followed by the short-lived Oscar & Tony's, and now Broadway Dive. Through the years, the red neon 'TAVERN' sign has always remained a beacon of light on Broadway and 101st, drawing people to sit within its dark wooden walls and at the beautiful art deco bar while sharing conversation amongst friends. Our décor is eclectic, with fresh water fish tanks, bottle caps, tap handles, neon signs, New York memorabilia, taxidermy and local artwork all arranged by our resident decorator, Ms. Aperol Mist. Our fish tanks are carefully maintained by David "Fish King" Fagan, a truly gifted master of the aquarium!
Currently, Broadway Dive has over twenty draft beers and three draft wines, a tremendous list of liquors and fine cocktails, as well as an astounding array of bottled beers. Our bar serves as the Upper West Side's premiere bottle and growler shop, sporting a huge selection of rare craft bottled beers and artisanal ciders. This fantastic selection of beer and ciders can be enjoyed within the bar's four walls or purchased to go. We can provide kegs for parties and can deliver within the NYC area, too. Check out our great selection of beers on beermenus.com, and follow us on Twitter, Instagram or Facebook. If you are looking for that hard to find bottle of beer or need some beer information contact me directly at lee@divebarnyc.com or nycdivebar@gmail.com.
Broadway Dive's numerous televisions provide the neighborhood with a prime location to watch all sporting events, including MLB, NFL, NBA, NHL, and all soccer and college games. If there is a sporting event you want to watch, we will do our best to show it! We also host a weekly trivia tournament, and occasionally we have small bands that perform on our stage. There is an intimate balcony lounge where small groups can gather. In the future, we look forward to providing local artists a place where they can gather and exhibit their work. Our bar menu features pizza, handmade gourmet NYC-style pretzels, chili, and meat pies, as well as chips, beef jerky, artisanal nuts and ice cream.
If you find yourself on the UWS, stop by Broadway Dive and say hello. There is always a cocktail to be had, a beer to drink and a story to be told.